| | | | |
| --- | --- | --- | --- |
| | | Byte - The Bulletin | |
Interesting stuff, quick read
16th June 2020
| | |
| --- | --- |
| | See it to know it |
Zoom call with celebrities paying through Cameo
Cameo introduced a new feature on Sunday — Zoom calls. The celebrity shoutout service will now let you book a 10-minute live video interview with various big names, so you can directly ask Sinbad about the Shazaam movie you're positive exists. It's like a pop culture convention's meet and greet, only without the germs. So far, Cameo lists dozens of personalities as available for a live chat, including beloved actor Sean Astin, iconic skateboarder Tony Hawk, N*SYNC alumni Lance Bass, comedian Gilbert Gottfried, and original Green Power Ranger Jason David Frank. Scott Patterson, aka Luke from Gilmore Girls, is also available, so you can ask Stars Hollow's grumpy coffee dealer how much caffeine the show's cast actually consumed. Previously, Cameo only allowed users to hire celebrities to record short, personalised, pre-recorded videos. While these clips are great for birthday messages and breakups, live chats let people ask questions and have a more spontaneous dialogue. You can invite up to four other people to join the Zoom conversation with your chosen celebrity, so you don't have to worry about awkward silences. Prices vary from $5,000 for former Green Bay Packers quarterback Brett Favre, to $100 for Wentworth actor Danielle Cormack.
| | |
| --- | --- |
| | Lemon bytes |
| | |
| --- | --- |
| | Chicken today contains 266% more fat and 33% less protein than it did 40 years ago. |
| | |
| --- | --- |
| | Expiration dates on bottled water have nothing to do with the water. |
| | |
| --- | --- |
| | #FacebookTech |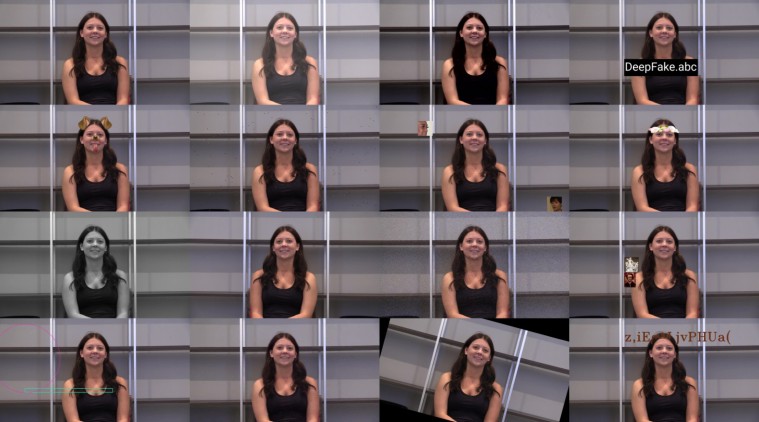 Img source: indianexpress
Facebook's $1 million 'Deepfake Detection Challenge'.

Facebook announced the winners of its $1 million "Deepfake Detection Challenge", which is exactly what it sounds like— a contest for AI models to detect doctored deepfake videos that "convincingly" imitate real people. However, as the winning model scores 65.18 per cent accuracy rate, it looks like there is much work that needs to be done before we rely on such algorithms to spot deepfake content. With over 2,000 participants, the competition saw more than 35,000 AI models attempting to detect deepfakes from a black box dataset of 100,000 videos. There are growing concerns regarding the misuse of deepfakes, which can put words in anyone's mouth as evident in the deepfake video made by Buzzfeed. Social media apps had banned deepfake videos on their platforms. At the moment, while the political effects of deepfake videos have been minimal, its use in the creation of nonconsensual pornography has already started to make noise. Luckily, pornographic content is easy to identify and remove from the social media platforms. As per the reports, Facebook is currently developing its own deepfake detection technology that is separate from this competition. Fake news is already a menace for social media platforms, that is why they want to be ready with tools that can fish out deepfake videos when they hit them. Fiji, East Timor.
| | |
| --- | --- |
| | #Covid19 |
Image source: livemint.com
Dharavi defused the covid-19 bomb
On April 1, when Dharavi, Asia's largest slum, reported its first covid-19 death, a 56-year old man, panic ensued. Mumbai's civic body, BMC partnered with this team, isolating and quarantining possible cases. The municipal body also supplied free personal protective equipment (PPE) kits to private doctors, giving them confidence to open their clinics, which had been shut since March. Now 100 clinics are open. Since late May, Dharavi has seen a decrease in number of cases. While average new cases have come down from 47 in May to 27 in June, the doubling rate of cases rose to 44 days against 21 as of May 24. So far, Dharavi has reported 1,964 cases and 73 deaths, while 939 people have recovered from the disease. Dharavi has a population of 7-10 lakhs. It may have seen nearly 2-2.5 lakh migrant labourers leave the slum clusters after the lockdown was announced in March. This helped the decongesting efforts of the BMC and doctors.
On a parting note...

"The only person who is educated is the one who has learned how to learn and change." ~ Carl Rogers
share with friends
By
Lemonop
· 529, 9th Main, Opp. club exit gate, Indiranagar, Bengaluru 560038